Bike Maintenance 101 – Canmore Public Library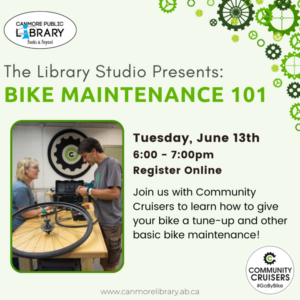 Library Studio Presents – Bike Maintenance 101 – FREE
Give your bike a tune-up at the Canmore Library with the experts from Community Cruisers!
Bring your bicycle to this Library Studio event to learn how to give your bike a tune-up and other basic bike maintenance!
The Library Studio Presents: Bike Maintenance 101 will take place on Tuesday June 13th from 6:00 – 7:00pm in the Friends Program Room.